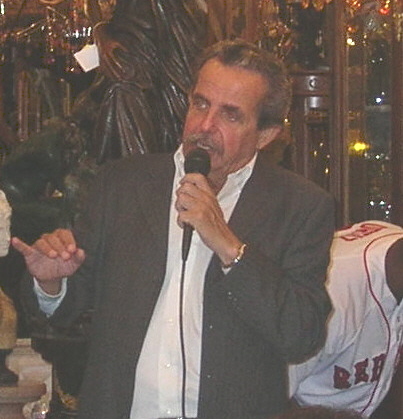 GENE "Mr. Excitement" FINZ
Lead Auctioneer & Managing Member,
505/AUCTION, LLC
"The excitement he injects into even small auction crowds is astonishing. Magical."
Gene Finz has maintained a license as a Professional Auctioneer since 1980, during which time he has sold over $50 million in personal and commercial property and over $12 million in real estate. During his career, Finz has been a respected member of the National Auctioneers Association, the Texas Auctioneers' Association, the New Jersey State Society of Auctioneers, and various Better Business Bureaus and Chambers of Commerce, and has been licensed to conduct auctions in fifteen states and/or municipalities. Finz has conducted auctions for Governor Bruce King (Ret., NM), District Attorney Bob Schwartz (Ret., Bernalillo County, NM), and has, on five occasions, lectured at the University of New Mexico School of Law on Art Auctions. In addition to holding an esteemed position in the auction profession, Finz is also a Certified Asset Appraiser, having performed appraisals for the Federal Deposit Insurance Corporation (FDIC), the Resolution Trust Corporation (RTC), other governmental and quasi-governmental agencies, and numerous law firms and bankruptcy trustees.
In addition to being a licensed Auctioneer and a Certified Asset Appraiser, Gene Finz has been a Licensed New Mexico Real Estate Broker since 1992, and a Licensed Florida Real Estate Broker since 2010. He has also held the role of Owner/ Broker of Albuquerque based Congratulations Realty, LLC. During his first year in that position, Finz personally listed over 100 homes.
During the last 15 years, Finz has also achieved fame as a radio talk show host for, among others, the 50,000 watt 18-state-reach, Albuquerque based 770-KKOB. In that position he has had the distinction of interviewing countless national and political figures including James Baker, Secretary of State under George H. W. Bush; 2016 Libertarian Presidential Candidate and former NM Governor Gary Johnson; Senators Gary Hart and Michael Dukakis; Former Presidential Candidate and Governor Bill Richardson; Hillary Rodham Clinton's brother, FL Public Defender Hugh Rodham; Dr. Jack Kevorkian; and many others.
In 2012, while vacationing in the picturesque mountain town of Ruidoso, NM, Finz was inspired to start SCOOT OVER RUIDOSO, a small motor scooter rental business. In the years that followed, the small fleet of motor scooters was expanded four-fold, and additional locations were opened throughout New Mexico. Today, under its new moniker, SCOOT OVER AMERICA, the company has ambitions of a nationwide expansion.
Among his personal accolades, Finz was recently voted one of the "TOP TEN AUCTIONEERS IN AMERICA". In 2003 he was named "REAL ESTATE INNOVATOR OF THE YEAR" for his establishment of Congratulations Realty, the southwest's first significant flat-fee discounter of residential listing services. Early in his radio career, Finz achieved an audience "share" rating of 17.5 (out of a maximum of 20).
In 2007, Finz was nominated for inclusion in the Heritage Society's "WHO'S WHO IN AMERICAN BUSINESS" where his profile appeared the following year.
In 2012, he was invited to audition for the role of auctioneer for A&E's hit reality show STORAGE WARS which was preparing to add STORAGE WARS MIAMI. As instructed, he submitted several audition tapes, some of which still appear on the web today. In September, 2015, he was told that he was "runner-up" and that in a "close call", the role was being awarded to another auctioneer.
Gene Finz can be contacted directly at FINZ@505Auction.com.